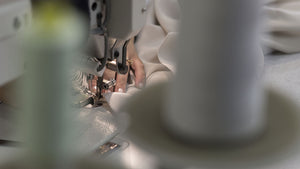 THE WORKSHOP
It is in the Potager du Dauphin workshop, in Meudon, that we prepare our collections and our made-to-measure clothes: Drawings, material research, patronage, development, prototypes, small series and made-to-measure are made by our small friendly and passionate team, which exercises its profession with legitimate pride.
OUR EXPERTISE
THE BLUR, THE LIGHT PIECES
We work with silks, muslins, viscose and poplins: blurring is our expertise. We exploit this expertise on all types of clothing by combining silk linings and haute couture details.
We are Artisan Creators: Our experience has been shaped over time, gradually adopting the gestures of our peers, transmitters of know-how.
We capture our knowledge together, observing within the workshop or during our meetings and collaborations, transmitting to the teams by demonstrating: the attentive gaze, the hand, the touch, the precise gesture, repeated so many times, are our most valuable tools.
ECO-RESPONSIBILITY
OUR MATERIALS
Materials are at the heart of our creations, they allow us to make beautiful, durable clothes for you, which wear a patina without being damaged.
We select them from the best weavers in Italy and buy the exceptional rolls from fashion houses.
"Behind each material, each print hides a creative, coloristic and technical research that gives the fabric an exceptional character, an incredible drape and incomparable resistance to time". Anahide
To preserve this material, we optimize the cut, and keep the scraps for new limited series or as part of our project "The HEART Of FASHION".
INSPIRED
JAPANESE AESTHETICS AND KNOW-HOW
"I draw my inspiration from materials, architecture, my travels, my encounters, my clients" Anahide
Material, shapes and textures are an inexhaustible source of creation. Associated with the know-how of my weavers, pleaters, embroiderers: Then begins a long process of associations of shapes, colors guided by a strong theme of inspiration.
"Making the garment reversible: an exercise that fascinates me, pushing the finishes to the extreme and imperceptible, perfect seams.
Modularity is a game we imagine the garment through time, passing the seasons evolving over time, an inexhaustible game of superposition, a multiplicity of color shapes associating over time. Anahide
COCKTAIL DRESSES
A wide selection of cocktail dresses adapted to your style and your event
OUR COCKTAIL DRESSES
BUSINESS DRESSES
Discover our range of business dresses adapted to your agenda and workplace
OUR BUSINESS DRESSES
DAY DRESSES
Our casual chic dresses for your casual days, on vacation or at the weekend
OUR DAY DRESSES
CHOOSE A CUSTOMIZED WORKSHOP IN PARIS and ILE DE FRANCE
In the collective unconscious, making the choice to create tailor-made clothing for women in a sewing workshop is reserved for a very privileged category of the population. Paris offers a multitude of possibilities for having personalized clothes made to your size and acquiring a quality wardrobe.
Here are some tips and information for choosing your clothing workshop.
Are you looking for a tailor-made sewing workshop?
Contact us Anahide Saint André
Workshop for creating and sewing tailor-made clothes in quality fabric
The first difficulty is to choose a tailor-made sewing workshop which demonstrates exceptional know-how to create your model but also which offers a style which will suit your models. This workshop must also demonstrate years of experience and be able to provide you with advice on selecting the type of fabric suitable for making your models. At Anahide Saint André , a tailor-made fashion house and haute couture for women , we design your model with you and recommend the style according to your body shape and the materials adapted to your models.
For a personalized project, consult our tailor-made Paris sewing page
Which tailor-made sewing workshop?
For a tailor-made clothing project in Paris and the Paris region, it is first of all important to ensure that the tailor-made workshop has mastered its know-how and has several years of experience so that your personalized clothing, a dress, pants tailored to your body shape, or a coat adapted to your figure is perfectly made.
Choose a tailoring workshop in Paris that has sufficient experience to advise and guide you on the type of fabric but also to make sketches, create the garment pattern, carry out adjustments during fittings and assemble your garment to your size with professionalism and very beautiful finishes.
Choose a tailor-made haute couture workshop
For a formal haute couture dress, choosing a workshop that masters haute couture techniques is very important if you want a well-executed dress. Particularly for a cocktail dress in silk crepe or a long dress in silk chiffon or a formal dress in silk satin , mastery of flou sewing techniques is essential, do not hesitate to look for a flou haute couture workshop in Paris , that is to say a haute couture house in Paris where the couturieres know how to work clothes in very fine and fluid materials. These materials are magnificent for creating haute couture dresses but require perfect mastery to make them.
The Anahide Saint André house, founded in 2012, with more than 10 years of experience and an expert in blurring, carries out your personalized clothing projects in its workshop in the Paris region. It also offers luxury and high-end collections made to order and a transformation and repair service.
Choose the material of the tailor-made garment
The type of fabric is essential when you have a project to make clothing in your size . Indeed, you are investing in a model perfectly adapted to your size, it would be a shame not to choose a quality fabric. The way the garment hangs depends on the quality of the fabric. The haute couture and couture workshop is capable not only of making your piece but also of providing you with good advice for choosing the fabric that will perfectly adapt to your creation. There are many fabric resellers in Paris to find the ideal type of fabric for your creation.
Steps of a tailor-made garment
Do you want to call on a professional tailor to create a dress in your size for the first time? Creating a garment inevitably goes through several key stages to make the sketches, develop the model, carry out the alterations, then make the garment in the chosen material.
First Meeting: From idea to dress
You meet the designer for an initial discussion on your needs so that the designer understands the context in which you are having your outfit made, determine your clothing tastes, your favorite colors. She will also take into account your body shape and complexion to advise you on the choice of model to make. You can also come up with photos or magazine pages to illustrate the ideas you have. During this appointment, a seamstress takes your measurements which will be used to create the model in your size. The designer will offer you sketches of models to choose from.
As soon as the choice of model is validated, the next step is launched.
Second meeting: Creation and fitting of the cotton canvas
As soon as the creation project is validated, the sewing workshop pattern maker makes the first pattern. A first canvas is assembled. The canvas is the model that corresponds to the creation made in a basic cotton fabric: this first step allows you to validate the proportions, lengths, ease and visualize the shape of the garment. During the first fitting, the basic model is validated and alterations are made. At this stage, there is still time to propose modifications. Or to evolve the model. Major modifications or a change of model may result in additional costs, if they require completely redoing the pattern, for example. A second fitting of the fabric corrected by the alterations made allows the final model to be validated and the decision to launch the piece in its final fabric.
Third appointment: Try-on of the model and final touch-ups
Trying on clothes is a special moment. You discover your model in its final fabric. This first fitting of the garment allows you to check the correct proportions, identify any small alterations necessary if necessary and validate the finishes. IF major changes are proposed, a second appointment may be offered, but in most cases, this appointment is a formality before the implementation of the finishes. You're almost there! After this meeting, the workshop's team of tailors gets to work creating the hems and pretty finishes. Depending on the types of finishes, this step can take time because the tailors carry out the delicate finishes by hand for a quality result.
How much does a custom cocktail dress cost?
Discover see our tailor-made couture article in Paris
Many tailor-made sewing workshops or clothing brands in your size, such as Anahide Saint André, exist in Paris and the Paris region. The Anahide Saint André sewing workshop, expert in light pieces, le flou, with ten years of experience, led by the designer and her seamstresses, offers a high-end tailor-made service for your evening dresses, wedding dresses. cocktail and wedding dresses.
Are you looking for a tailor-made sewing workshop?
Contact us Anahide Saint André