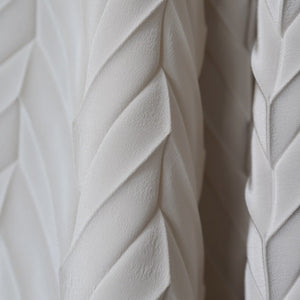 FRENCH COUTURE HOUSE INSPIRED BY JAPAN
CREATED AND MADE IN FRANCE OUR COLLECTIONS ARE DESIGNED IN ECO-RESPONSIBILITY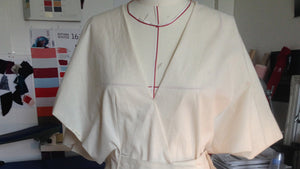 SMALL SERIES
MADE IN FRANCE
All our collections are created, developed and manufactured in France
Founded in 2012, the brand revisits the Japanese IKI aesthetic codes: a sleek wardrobe with meticulous details seen as a luxury for oneself, which reveals the personality and natural elegance of a daring and refined woman. Installed in its workshop in the Paris region, the house creates small series over the seasons. The workshop also declines its custom-made creations.
The Artistic Director, her inspirations
With a calm temperament concealing an unfailing determination and an incessant creative energy, the initiatory journey of Anahide Saint André was built according to his travels and experiences.
Passionate about know-how and creation, she has held managerial positions in the world of luxury, fashion and design for the past 20 years. In 2011, she decided to realize her dream, resumed her studies at Esmod then at the Chambre Syndicale de la Couture Parisienne to create a timeless, sustainable and committed brand.
IKI style
"Inspired by Japan and in particular the sense of detail of Japanese culture, I rely on IKI Aesthetics at the origin of contemporary Japanese aesthetic models in fashion, design, architecture"
This aesthetic approach, which has its origins in the end of the EDO period, claims an intimate luxury for itself without shine and beautiful finishes both inside and outside: it inspires all my creations. Beauty, beautiful materials, meticulous work, but also audacity for a very personal and intimate look guide my collections and the spirit of the entire company.
A modular wardrobe for Eco-responsible luxury
Anahide Saint André twists the traditional functions of clothing to create a modular or reversible wardrobe allowing you to multiply and personalize your wardrobe for every moment of the day in a chic and playful spirit.
This modular and reversible wardrobe is designed for a responsible and sustainable approach to women's wardrobes that allows you to vary without changing everything.
The fabrics are selected from the best weavers and the top-of-the-range collections are made in France in the house's workshop.
The high casual collection completes the selection for more accessible and easy everyday pieces. It is manufactured in our workshop and with European manufacturers for the most requested parts.