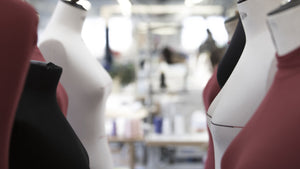 Exclusive creations, noble materials, many colors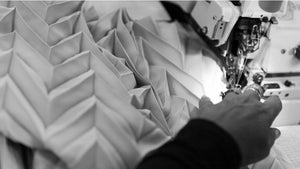 We create for you your dream outfit for your event in half-measure or made-to-measure
1st meeting
Give shape to your desire
Do you want a particular model?
Are you looking for an outfit for an occasion or a wedding but don't know how to dress?
Listening, our expert team accompanies you and advises you according to your desires, your morphology and the context of your event.
We are preparing our first meeting together.
During the first appointment: Discussions, favourites, discoveries of the collections, first sketches, fittings... A moment of conviviality and exchange which allow us to determine your dream outfit.
An estimate is sent to you, to concretize your order.
2nd meeting
Patronage, Canvas and Fitting
As soon as the estimate is validated, we order the fabrics if they are not available at the workshop.
We prepare the pattern of the garment from your measurements and the desired indications.
Then we assemble the canvas, that is to say its outline in a less expensive material, which will allow us to create the general shape, the proportions of the garment or the set and the finishing details according to the desired indications.
During the second meeting, you try on the fabric and we make the necessary modifications together. The fitting of this fabric and the validation of any modifications materialize the realization and the finishes of the final garment.
3rd meeting
Realization and development
The validation of the canvas during the second meeting triggers the realization of the model.
Upon receipt of the fabric, lining and supplies, we make your set or garment, in accordance with the final canvas. The third appointment is proposed just before the final finishes to be able to make some slight adjustments before finishing and pampering the garment.
Then we make the final modifications and do the finishing touches. Comes the time of pampering, that is to say that we iron and prepare your garment to be ready to be worn.
Your unique piece is ready!
MESSAGES FROM OUR CUSTOMERS
★★★★★

I wanted to thank you because I got so many compliments on my beautiful wedding outfit, thanks to you!

Nathalie E.

St Germain en Laye, France
★★★★★

My dress was perfect! Thank you again for your advice and your availability.

Anne T.

Meudon, France
★★★★★

My dress had a lot of success! Even my sister-in-law who never picks up a kindness split a compliment!

Anne B.

Nantes, France
★★★★★

Add customer reviews and testimonials to showcase your store's happy customers.

Author's name

Los Angeles, CA
★★★★★

Add customer reviews and testimonials to showcase your store's happy customers.

Author's name

Los Angeles, CA
Ethical Fashion, Ecodesign, Responsible Fashion by Anahide Saint André